Several ABO members have already responded to our appeal on behalf of the Ronald McDonald House of New York, and by now you should all have received the letter from President Michael Kerr and President Emeritus Jerry Belson explaining our goal  — but a picture is worth a thousand words.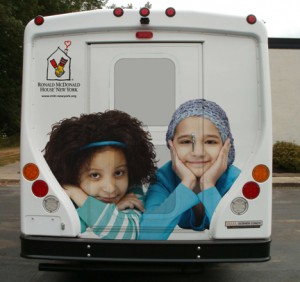 This is the first of two new trucks being delivered, and the kids are counting on us to help pay for them.
These vans are used to take patients and their families to and from their hospital appointments.
The vans we purchased four years ago helped to extend the lives of many children.  When we started fundraising, the House only had one van.  As a result, many of the residents of the House were unable to make their appointments.  The addition of a second van made a big improvement.
Both vans are ready to be replaced.  Our goal is to raise $80,000.
Please join us in helping to improve the lives of families who have children who suffer from cancer.  Your contribution will make a difference.  We have already seen the benefits of our efforts four years ago and intend to do the same again.
Please make out your contributions to:
Ronald McDonald House
and send it to the ABO office.
C/O Dan Margulies
Associated Builders and Owners
80 Maiden Lane, Suite 1503
New York, NY 10038
Thank you.